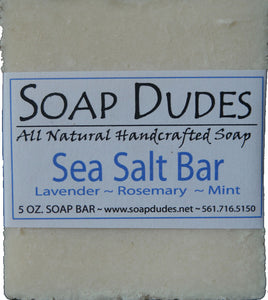 Help balance natural oils & draw out toxins. This one is loaded with skin noruishing minerals.
Sea Salt Soap Bar
Enhance your bathing experience with the many benefits of Sea Salt!
A big 5 oz. bar of Sea Salt, organic coconut, olive, hemp & castor oils, shea butter, Lavender, Rosemary & Mint fragrance oils.
Sea Salt exfoliates and nourishes the skin with magnesium, zinc, calcium, potassium and much more.
This soap cleans, moisturizes and smells great! 
The Soap Dudes don't skimp on the good stuff so it has plenty of moisturizing & skin smoothing shea butter.
---
related products