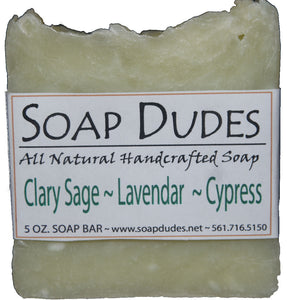 Spicy, fresh & a little bit floral. Great for dudes & dames.
Clary Sage
Refreshing & all natural!
A big 5 oz. bar of organic coconut, olive, hemp & castor oils, clary sage, lavender & cypress fragrance oils.
The Soap Dudes don't skimp on the good stuff so it has plenty of moisturizing & skin smoothing Shea butter & Hemp oil.
This soap cleans, moisturizes and leaves you feeling oh so fresh!
---
related products