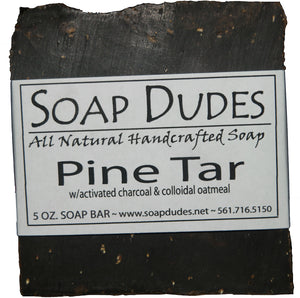 w/ activated charcoal & collaoidal oatmeal. Invigorating with a fresh woodsy scent.
Pine Tar
Talk about super woodsy scents!

A big 5 oz. bar of real pine tar, activated charcoal, organic oils & colloidal oatmeal. This soap cleans, moisturizes and deodorizes.

You can use this soap as a shampoo bar to relieve scalp eczema, psoriasis and dandruff. It's also great as a body soap to soothe itching and heal the skin.

Our all natural Pine Tar soap contains exfoliating and nourishing colloidal oatmeal and lots of Shea butter & Hemp oil.

Pine Tar soap has long been a natural remedy believed to have powerful antiseptic qualities and is known to be used to treat skin conditions such as eczema and psoriasis.

Want clean? Soap Dudes Pine Tar soap will get the job done!
---
related products