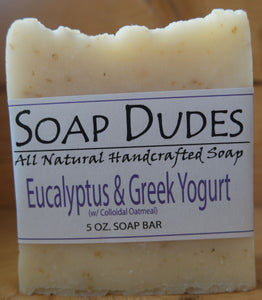 A relaxing blend of eucalyptus, spearmint & Greek Yogurt
Eucalyptus & Greek Yogurt
A big 5 oz. bar of organic coconut, olive, hemp & castor oils, Greek yogurt, colloidal oatmeal, Eucalyptus & Spearmint essential and fragrance oils.
And since the Soap Dudes don't skimp on the good stuff it has plenty of moisturizing & skin smoothing shea butter.
Eucalyptus has the ability to strengthen the immune system, ease tension & anxiety, improve respiratory health & reduce inflammation.
Greek Yogurt is said to have anti-aging properties that help reduce signs of aging skin giving you a more beautiful complexion, less acne, reduced wrinkles and smaller pores.
Wow, what more can you ask for?
---
related products