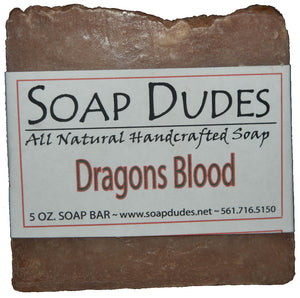 Alluring mix of amber, vanilla, patchouli, rose, amber & lilac
Dragons Blood
Release your inner Dragon with this provocative and manly scent!
A big 5 oz. bar of organic coconut, olive, hemp, castor oils & Dragons Blood fragrance oil.
And since the Soap Dudes don't skimp on the good stuff so it has plenty of moisturizing & skin smoothing shea butter.
This beautiful deep, rich fragrance will intrigue your senses, in an earthy blend of citrus and floral.
Dragon's Blood combines an alluring mixture of fresh orange and grape, sensual clove and rose with a woody patchouli base.
---
related products