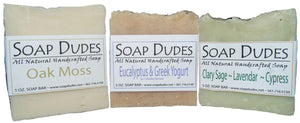 Get organic hand made soap every 3 months.
Quarterly Subscription
Get Soap Dudes to deliver fresh & invigorating soap direct to your door once every 3 months
All Subscriptions receive 10% off each order!
Choose one soap (Bay Rum for example) and add it to your cart. In the shopping cart you can choose how many to be delivered.
If you want more than one scent then simply choose "continue shopping' and come back to weekly subscriptions and choose a second soap.
Repeat again if you want a third and so on.
Need help or cant find what you want? Give the Soap Dudes a call: 561.716.5150 or email us.
---
related products