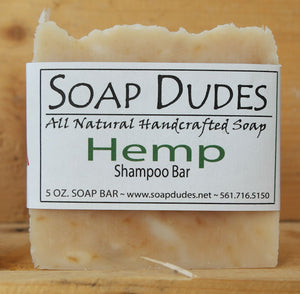 Soft, fresh & full of ultra conditioning hemp oil.
Organic Hemp Shampoo Bar
Condition & improve hair health, great for oily hair
A big 5 oz. bar of organic hemp, coconut, olive, & castor oils, with local raw honey.
The Soap Dudes don't skimp on the good stuff so it has plenty of moisturizing & skin smoothing shea butter.
Hemp is super for all types of hair & natural oils return moisture to your hair and help to keep it from drying out.
Lots of good stuff, no yucky stuff!!!